Since hitting the scene at the age of 13, Becky G has risen to superstardom and all eyes continue to be on the 24-year-old, even after a decade in the music industry. Everyone has come to know her for her chart-topping tunes, snagging some prominent awards (including most recently winning the first-ever American Music Awards for Favorite Latin Female Artist in 2020), and launching a beauty brand called Tresluce Beauty this year. But what people may not know about the music artist and beauty brand founder is her advocacy work for health and how she connects it to her love of music.
For Becky G, health starts with taking care of the body and celebrating its movements, but she's a big proponent of not treating workouts like a tedious task. Instead, she urges everyone to allow themselves to have fun with it. That's more than evident in her energetic workout playlist on Spotify and getting emotional while riding her Peloton bike (more on that below). And let's not forget her headlining the Zumba Instructor Convention in 2019. That's why it comes as no surprise that she'd find herself involved with The Movement Live by Michelob ULTRA event with Adaptive Fitness Foundation. Becky G will be hosting the first-of-its-kind cycling class and live concert in San Diego, CA this month — in which participants will be able to join in-person or virtually.
In celebration of this upcoming event, Remezcla caught up with Becky G to talk about fitness, how it meets with culture, and the Movement Live by Michelob ULTRA event.
Growing up, how did music and dance solidify the sense of family?
My family is my tribe, they are my community. I am one of 19 grandchildren on my mom's side and one of 15 on my dad's. How I expressed myself was a little different. Instead of treating me differently, I was celebrated. My expressions were through songwriting and through singing and through performing for them and how I dress. 
How has your personal relationship with fitness changed growing up in the spotlight? 
You don't have to be a pop star, or whatever, to really feel those pressures. You can be anyone, because of the power of social media. Taking back that power that I was giving to negative places. Putting it into taking care of myself, in every aspect. I always say no one can benefit from a healthy body like you can. It's not for anyone else. The group experience of getting to work towards something together I think is going to be really beautiful.
How does fitness help you on the day-to-day besides obvious health benefits?
It's the mental game. For me, it's very cathartic. There have been times where I've been on my bike here at home and I'll cry at the end of a ride. When I get on and do what's like a 20-minute or half an hour ride, even if I'm really tired. I feel accomplished. I feel like I'm doing something good for the vessel that I was blessed with.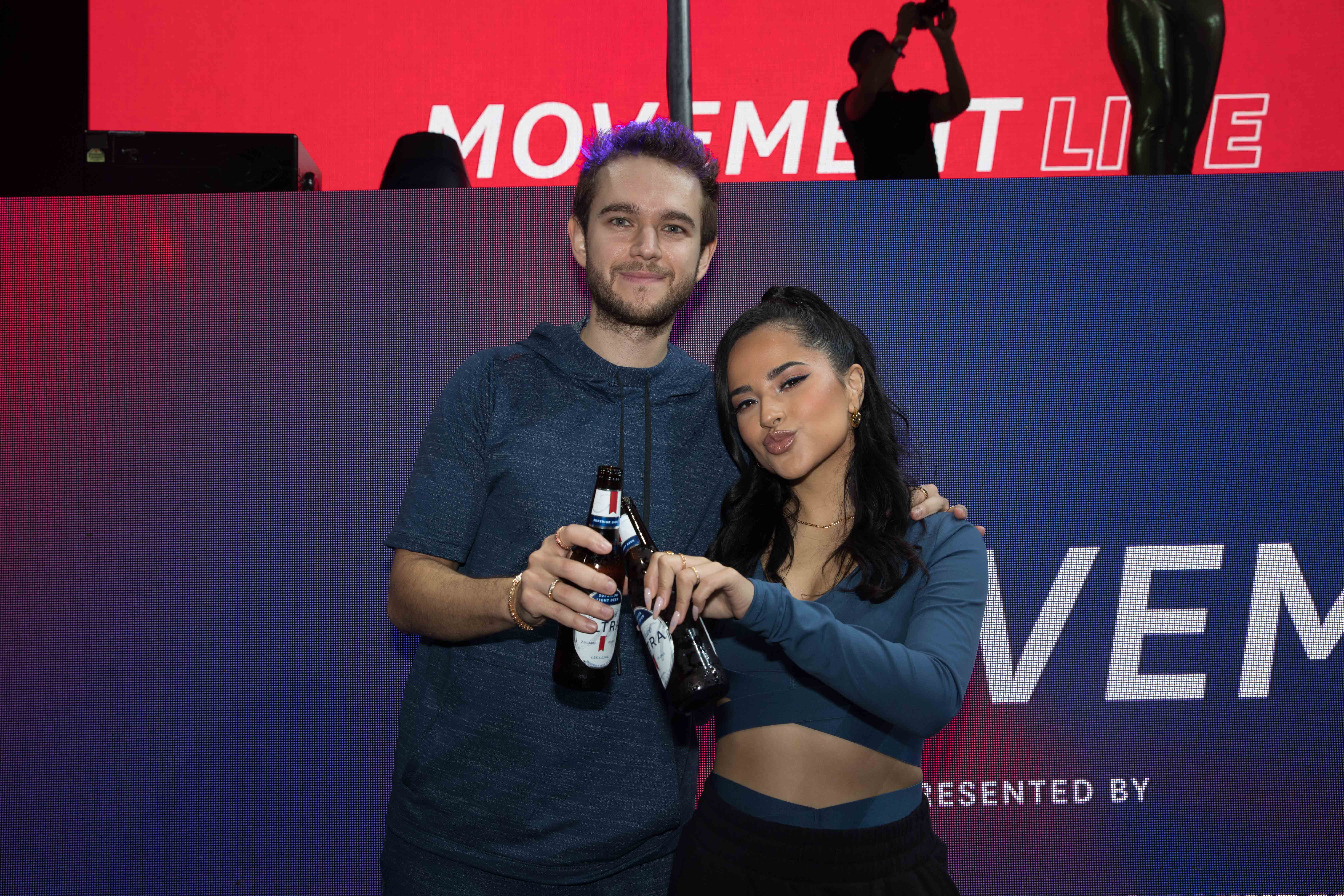 How does your culture affect your approach to fitness?
I think culturally speaking, within all minority communities, [it affects] health and wellness in all aspects. Not just physically, [but] mentally and emotionally [too]. It's not something that's prioritized. Nor are we educated on it very much. That's why this collaboration, it's not my first Michelob, which I'm also very proud of, because what they stand for definitely aligns with what I stand for. It's not things that we're educated on, and that I hope to make a difference in for sure. I think it's very very impactful.
Tell me more about the Michelob and Adaptive Training event?
I am so excited for many, many reasons. First off, the fact that it's taking place at Petco Park in San Diego. I think it's just so unique, it's so different. It's an invitation for you to be active but in a sense of community. Performing live music, and I just think that it is going to be magical. It is going to be inspiring, for me as an artist to be in an environment like that.