New year, new look! L.A.-based cosmetics company Morphe has announced the launch of its Sweetest Tea Collection today. The makeup brand, known for its marketing partnerships with social media influencers, has selected personality/creator/influencer Louie Castro as the face of their newest line. Sweetest Tea is an extension of Morphe's current best-selling nude lip shade Sweet Tea, which now includes a 35-piece colorful eyeshadow palette and the Sweetest Tea trio featuring a rosier color lip liner, gloss, and lipstick hue. Castro has been a staunch supporter of the brand for a long time, often showing off his makeup looks and tutorials to his fans on YouTube and Instagram, utilizing various Morphe products, making this the ideal partnership. 
On collaborating with Morphe for the Sweetest Tea collection, Castro tells Remezcla: "When I was introduced to this collection, I was like, 'Here it is again, another beautiful palette!' We have the mattes, the shimmers, the purple, pink, and orange hues. Their lip liners are also a staple for me. They're just so creamy and easy to use. Their lipstick and gloss are just like a perfect little combo." 
Influencers have become a lucrative commodity in a new job sector that can be described as democratized successors to the reality TV celebrity. These everyday millennials and GenZ creators provide niche and diverse content to their loyal audiences. Thanks to the easy accessibility of video and photo sharing on social media, many personalities and creators are able to extend a relatable authenticity that lures invested followers with access to proximity, inspiration, and representation.  
Louie Castro, aka The Baddest Perra, reaches his audience of 2.2 million followers on Instagram and 2.75 million subscribers on YouTube by sharing wide-ranging personal and entertaining facets of his life. The 22-year-old, who was awarded 2020's Premio Juventud Award for Mejor LoL, is noted for his entertaining personality, comedic skits, and spontaneous adventures with his friends and family, who he credits as a driving force of fulfillment and happiness in his life.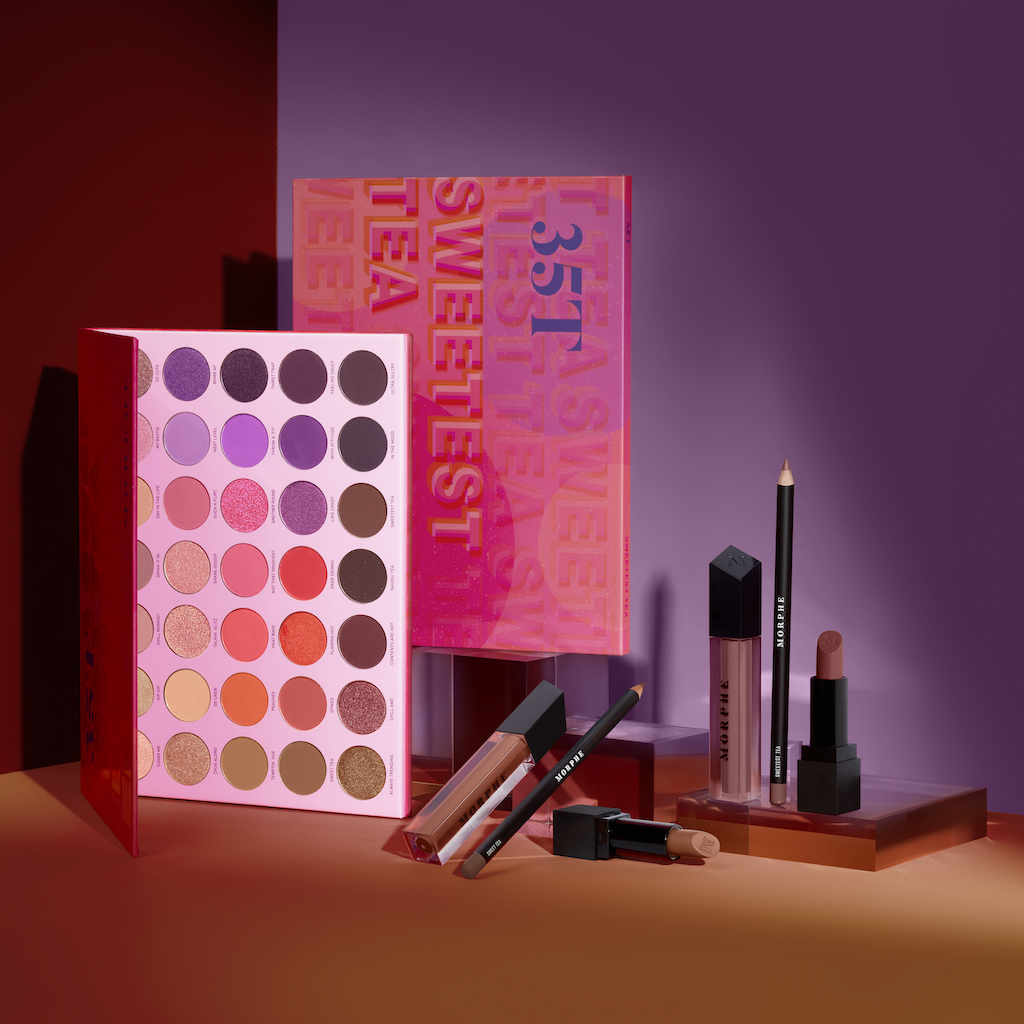 While most people have the ability to become social media influencers few reach the level of social media stardom that Castro has. Remezcla spoke to the Mexican-American social media maven in an exclusive about what draws people to his content. He offers inspiration as a Latine male beauty influencer, protecting his peace and happiness online, being an authentic creator, and, of course, now serving as the new face of Morphe's Sweetest Tea collection. Customers can shop the presale today on Morphe's Instagram, and it will be available on their website and in Morphe stores on Monday, January 3.  
How did the partnership with Morphe initially develop? 
When I started doing makeup, the first makeup store that I went into was Morphe. Having this partnership with them is surreal. It's like a full-circle moment because I remember when I had to drive all the way to LA, which was like a six-hour drive from my hometown, just to visit the only Morphe store open at the time. I spent a good amount of money buying my first brushes and palettes. I was just so excited because my biggest goal was to get noticed by Morphe so I would always tag them and comment. When they finally started noticing me, I was so freakin' excited, I almost manifested it. I was like, one day I will work with them, and I'll be in their stores, I'm just going to work hard for it. Now that I have this opportunity, it really takes me back and we've really created this relationship, which is such a beautiful moment for me to think about because I know it's something that I worked really hard for.
What's your journey been like with experimenting with makeup? How did you get your start with makeup and what was that initial process like for you?
I started experimenting with makeup towards the end of 2017. My favorite creator was Bretman Rock. I always loved his content because he filmed a lot of comedy and then he started playing around with makeup. I think he was the first male who I saw wearing makeup. It was such a huge thing for me. Later on, I saw James Charles and so many of these other male beauty influencers. It sparked a different way to express myself. I've always loved to experiment with new things, so I decided I wanted to also try makeup. Slowly, I started buying a few products here and there, foundation, concealer, etc. I feel like I fell into this huge world of makeup and started doing these crazy colorful looks. It wasn't just eyeshadow, it was full makeup looks and drawings on my face. It became a new outlet for me to express creativity.
How did you get your start with vlogging, YouTubing, and becoming an internet personality?
Ever since I was younger, I always had a camera with me. I was always filming and doing my version of a vlog before I even knew what a vlog was. I really got into doing video in high school, I took classes for three years, also in college for a bit. It was always something that was super fun for me. Eventually, I started posting on social media, and a lot of people liked my stuff. Then, I created a YouTube channel, and it all started growing from there. It was really crazy how it started as this little thing, my world in a video—almost like a diary. Once I started growing this following I was like, "Oh my god, people want to see what I'm doing! What the heck!" It's definitely been such a huge blessing and it's so fun for me. I truly enjoy what I do.
Hearing that you were inspired by other male beauty influencers, what has it been like for you to now pass on that torch, so to speak, to your own followers?
I feel like there's a lot of machismo in the Latinx community and in my hometown. I never really grew up seeing men in makeup. When I started doing it, I started getting messages from others who were thanking me because they didn't feel the most comfortable wearing makeup themselves. It made me really happy. I wish that I had that when I was a little younger. I didn't come out until I was a lot older because I wasn't seeing a lot of representation where I used to live. Knowing that I'm giving that hope or idea to somebody else, who might have grown up in a similar circumstance, makes me really happy. I definitely feel like it's what I needed and that's why I try to just be myself and express myself as much as possible in hopes to let someone else know that it's okay to be who they are.
Many influencers focus on branding for very specific things, but I feel like you do a little bit of everything, and your branding is mainly about you as a personality. How would you describe what that personality is and what types of things do you like to communicate to your audience?
I'm really happy that you said that because that's what I try to put out there. I always try to make my videos comedy-driven, but I don't like to stay in just one lane. I love to explore new things. Whether it's cooking videos or makeup videos, I would hate to limit myself to just one thing, so I'm really glad that the people that follow me stick around with me and all the mess that I put out there. I've dipped my toes into fashion, comedy, makeup, and so many different topics, which have worked out for me and that makes me really happy.
"There's a lot of machismo in the Latinx community. I never really grew up seeing men in makeup. When I started doing it, I started getting messages from others who were thanking me because they didn't feel the most comfortable wearing makeup themselves. It made me really happy. I wish that I had that when I was a little younger."
What's also fun is that you involve so many of your family and friends with different activities, or get into crazy shenanigans. What made you decide to want to have them on with you as such a big presence on your YouTube channel?  
It's such a blessing that I get to do what I actually enjoy doing as my job. I think that's why I bring so many of my family and friends into this because those are the people who make me happy, and combining them with something else that makes me happy is just so fun. It's almost like we're filming a video for ourselves but then it's put on social media for others to also watch. It's fun to go back and watch the old videos with either family or friends—the best part of all of this is all of the memories that are being created. I have a really small circle, which is important because I'm picky with who messes with my energy. As selfish as it sounds, I try to focus on myself a lot, because sometimes I do receive a lot of negativity online so that's why you need to have a really strong support system. I try to make time for the people and things that make me happy. I have to take care of myself to make sure that the negativity won't affect me as much as it could.
As a personality that relates to many Latine viewers who can identify with you and your culture, what does that mean, for you to unapologetically celebrate your heritage and express parts of your culture to others online? 
When I first started social media, I didn't put a lot of my culture out there or talk about how I grew up. I wasn't seeing a lot of that myself, so I felt like people weren't going to be interested in seeing it. Then, I made a video titled How to Dance at Quiceañeras. I was raised listening to Spanish music, especially cumbia, so I was like, "I want to do a funny video on how I see people dancing at these family parties," and the video blew up overnight. Ever since that video came out, it turned on a switch. I felt like I had even more freedom to express myself online and have people to who I can finally relate. I think that's why I have such a strong bond with so many of my followers who are Latinx. We grew up in similar ways, we have a lot of the same background, and knowing that I've created a space for other people to come to have a good laugh, to relate to, and enjoy the content amazes me. 
What advice would you give anyone who might be interested in creating a social media channel and platform but who is still on the fence about it or might have some anxiety about getting their start with it?
I would say to not overthink it and do what makes you happy. As long as you're authentic to yourself, it'll all be so much fun. Many people think that they have to change the way they are to fit into a certain category, but as long as you're being true to who you are, you're going to find those people who really love and support you, so just remember to have fun!