After several film showcases, over two dozen panels, hobnobbing with the numerous industry professionals in attendance, the occasional selfie, and more free drinks than you can count on two hands (twice) — scattered over three days in Los Angeles — the National Association of Latino Independent Producers' NALIP Media Summit came to an end with a gala event that's essentially an annual quinceañera for the Latino film industry.
Gowns, tuxes, a step-and-repeat, and a Golden Globes-style dinner (not that we've ever attended, but can guess from watching it on TV), were in place at the W Hotel in Hollywood this past weekend to celebrate a successful summit and to single out a handful of particularly talented individuals within the tight-knit community. The attendees of the Latino Media Awards were a crowd made up of established filmmakers, aspiring filmmakers, actors, agents, festival programmers, executives, and a few lucky journalists that managed to sneak in.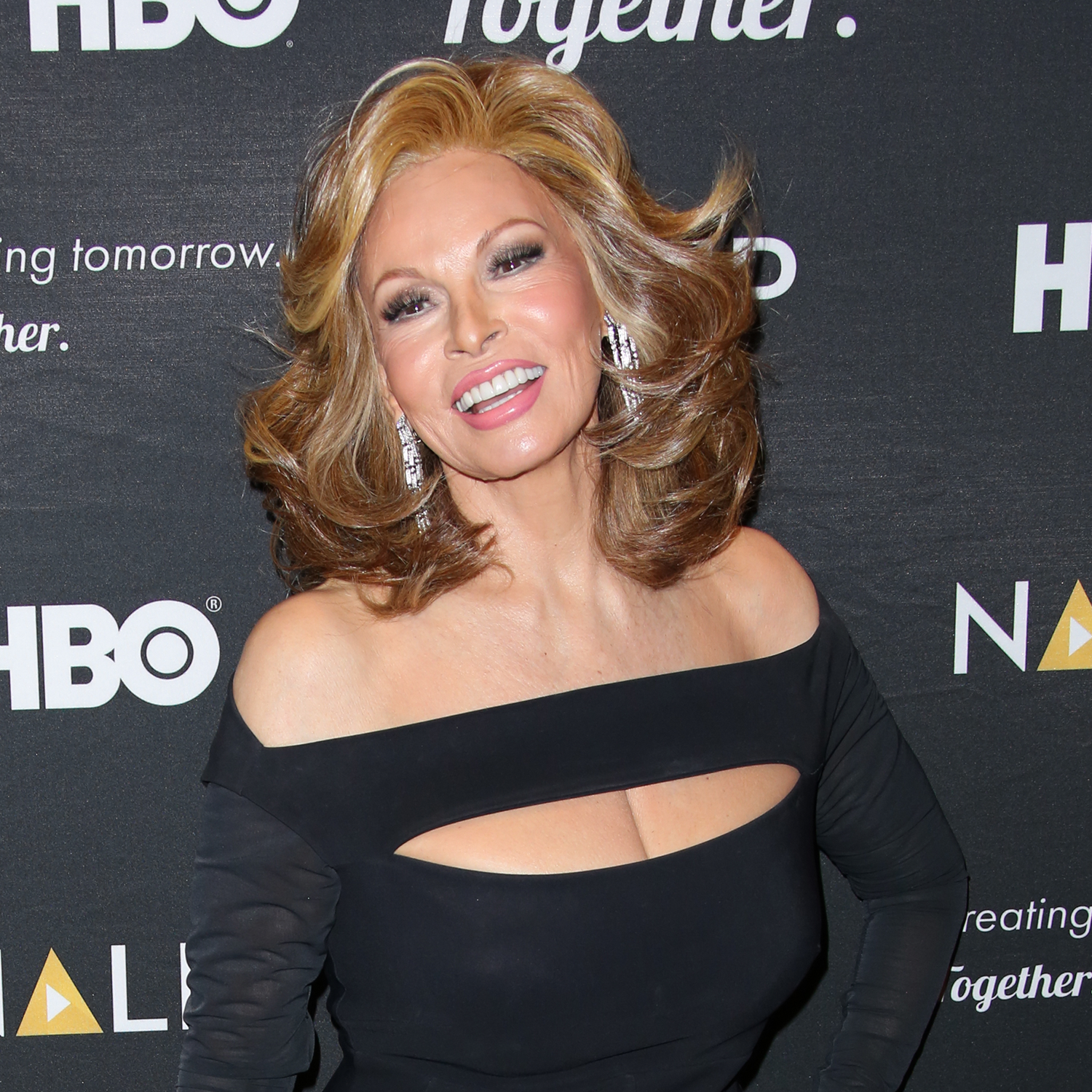 Soulful singer Raquel Rodriguez performed while dinner was being served to set the tone for a couple hours of heartfelt speeches that truly reflected the diverse experiences Latinos go through while pursuing a career in Hollywood.
The Advocacy Award was given to Univision's Roberto Llamas who is in charge of the media giant's Community Empowerment Division. The Lupe Award, named after legendary actress Lupe Ontiveros, was awarded to Orange is the New Black's Dascha Polanco, who also walked the carpet and gave interviews in excellent Spanish. On the industry side Tejano Rick Ramirez, SVP of Target Marketing for Warner Bros., received the Industry Pioneer Award. Beloved Mexican comedian Eugenio Derbez was honored with the Outstanding Achievement Award. Closing the festivities, the Lifetime Achievement Award went to veteran actress Raquel Welch (born Raquel Tejada) who was presented with the prize by director Robert Rodriguez.
A poolside party with a performance by Los Rakas followed the emotionally charged ceremony. Even after endless drinks on the rooftop of the famed Hollywood hotel, we were able to piece together some highlights from the winners' speeches, which offer some wisdom we can all appreciate.
---
Roberto Llamas on Being Chingones
Latinos are on the move. They are getting better educated, they are becoming more prosperous, they are becoming healthier, and they are becoming more involved in civic affairs. They are people to be listened to, people to be sold to, people to be invested in. For us to move ahead, means moving beyond 'No te dejes' to going and doing something about it, and I hate to say in such terms, but it means being chingones.
Roberto Llamas on the Latino vote
If we don't move and we don't vote then it's not gonna matter if we are one in six or one in three. We have to vote! If we don't vote for ourselves let's vote for those 12 million people who live in the shadows! If we don't vote for them, let's vote for nuestros niños who can't vote!
Dascha Polanco on Being an Immigrant and Achieving Her Dreams
I stand in front of all of you this evening as an immigrant, a Latina, and a female, humble to be recognized by you. My parents brought me here from the Dominican Republic. Yes, I had a green card and just became a citizen two years ago. I could have taken many other paths in my life; however, every obstacle, mistake, failure just strengthened me to strive against being a simple statistic and just an excuse. My dreams at some point felt so far and now your support empowers even more. What I have done can be done by anyone. You have that choice, resilience, persistence, love, and unity. I'm Latina and I'm proud!
Rick Ramirez on Marketing to Latinos
In what I do my objective has always been to clearly define what the opportunity is, but is not so much about marketing to Hispanics. It's interesting because I always get asked, "How do you market to Hispanics?" And I always respond, "The answer isn't how to market to but what's the opportunity, because there are so many points of view, there are some many takes on what this opportunity is. When we start seeing that we really understand the richness and the different nuances of what being a Hispanic truly means.
Eugenio Derbez on Donald Trump
I've been trying to work in this country for the past 12 years and it hasn't been easy. I've dealt with rejection, ignorance, and in some cases even disrespect towards our Latino community. For example, take people like Donald Trump, who thinks that every single Latino in this country is Mexican. But, there are different kinds of Mexicans: Colombian Mexicans, Puerto Rican Mexicans, Cuban Mexicans. He also claims that all the Mexicans in this country are either drug dealers or rapists. You are wrong Mr. Trump. We are honest and hard working people. Latinos are also waiters and cooks in all the restaurants in the U.S, so be careful next time you go eat in a restaurant because you might need to swallow your words… and something else.
Eugenio Derbez on Rejection and Creating His Own Projects
"After all those years I realized that nobody was going to hire me and that I should start hiring myself."
My career started 25 years ago in Mexico where I worked really hard doing all kinds of projects and one day I discovered that I was in my comfort zone. Everything was going too smooth, too easy. I decided to get in trouble and go fight for my dreams, so I came to the U.S. When I got here I started having meetings with producers, directors, managers, etc. I realized they had one thing in common, no matter how much work I'd done back in my country and in Latin America, to them I was nobody just because I had never worked in the United States. I also told them many, many, many times that my main strength was my already built-in audience, a fact that they ignored constantly. So I had to make my own movie, Instructions Not Included. After it came out and all the Latinos came to support it everyone was like, "Who is this guy? What did he do? What's the formula?" My partner told me, "Congratulations, it took you 25 years to be an overnight success!" After all those years I realized that nobody was going to hire me and that I should start hiring myself.
Robert Rodriguez on Raquel Welch
It wasn't until later in life that I learned Raquel Welch had actually been born Raquel Tejada, and that she was Latina. I felt great pride when I found out she was one of us. Making it in an industry that was always a challenge for us to break into, but she did more than break in and make her mark. She carved out a place in movie history portraying strong female characters and breaking the mold of the submissive sex symbol.
[Reading from her notes] When I first started making movies back in the sixties, I couldn't help but notice that… I need my glasses. Some things stay up [gesturing to her chest] and others vanish [puts on glasses]… Back then there weren't a lot of Latino actors or actresses on the scene, with the exception of artists like Tony Quinn or Rita Moreno in West Side Story, wasn't she fabulous? By the way, what's up with the casting in that movie? Hollywood couldn't find a Latina actress to play the role of Maria? I mean, por favor! It really bothered me, and you know, it still bothers me to this day.
Raquel Welch on her Dual Identity
I'm a bit sensitive about things like that probably because my father was an immigrant from Bolivia, Armando Carlos Tejada Urquizo, a very Spanish name. On the other hand my mother's family dated back to the Mayflower and John Quincy Adams, her name was Josephine Sarah Hall. What a combination. I didn't know which direction I was going. Was I the fiery girl with salsa in my blood, or was I more like my mother living life reserved. I still haven't figured it out.
Raquel Welch on Keeping her Name Despite Pressure from Hollywood
I came into the world as Jo Raquel Tejada, quite a mouthful really. Most people would get all tongue-tied and couldn't pronounce it. I was Raw-kwel or Rackle, sometimes I said, 'Just call me Rockie.' Later I became Raquel Welch when I got married… But when I hit Hollywood, 20th Century Fox Studios had a very different idea about what to call me and they did not like the name Raquel. "Too foreign sounding" they said. "Too ethnic," "Too hard to pronounce," "No one will remember it." They finally just asked me outright to change my name to Debbie. Come on, seriously do I look like a Debbie? Anyway, I guess you know who won that battle.
---
The National Association of Latino Independent Producers (NALIP) advances the development of Latino content creators through its programs like the 2015 NALIP Media Summit focusing on narrative, documentary, TV, and digital formats.