When Krystall Poppin lands in Houston, Texas, the tension in her shoulders fades away. Today, the rapper is based in Los Angeles, but she was born and raised in El Paso, Texas. "Texas is a big part of my artistry," the rapper tells Remezcla. "I'm happy to represent the state and wear it on my jersey." Not only does Krystall represent her hometown, but she's been building a cult following over the years. Her 2019 album, Raw Gold Honey, displays the rapper's years of work, as well as her range. From the vulnerable lyrics of "The Desert Daisy" to the raw confidence of "Cold Blooded," the only constant is the level of passion in Krystall's music. 
The name "Krystall Poppin" is actually a nickname given to her by a family friend. Growing up in El Paso, Krystall would spend her Friday nights getting dressed up with her friends for a night out. Her family friend took note of this and blessed her with the nickname "Poppin." And for Krystall, it made sense.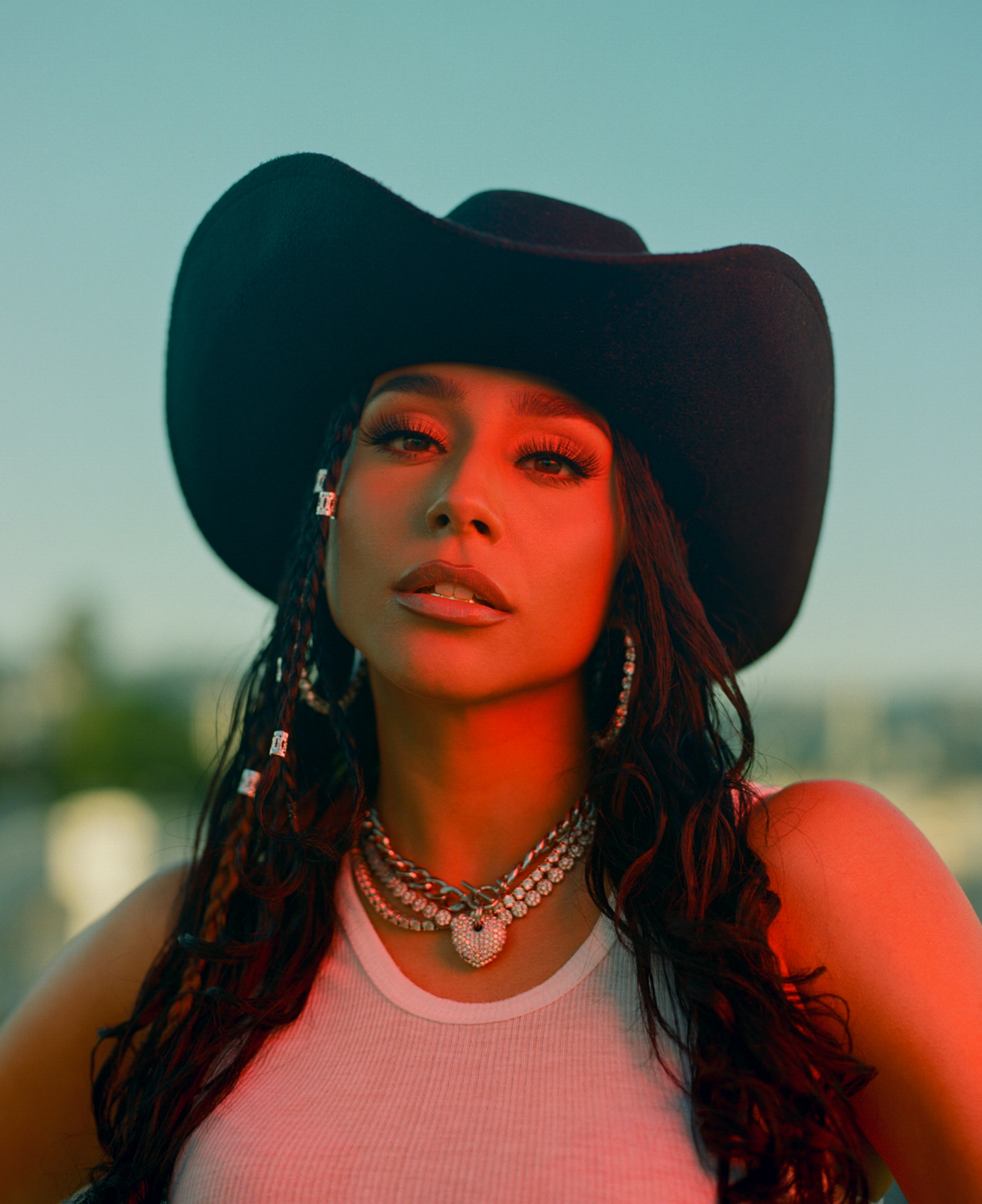 Since then, Krystall has carried elegance and strength into her recording sessions, where she most recently recorded and released her single, "One More Time," with Paula DeAnda. While brainstorming in the studio, Krystall decided the song should be about "something that people want to hear right now." A "feel-good song." Especially due to everything we've experienced during this pandemic. Whether you're blasting Krystall's songs or watching her music videos, you can easily understand why her fans connect to her and her lyrics as passionately as they do.
One of the ways she does this is by staying connected on social media and engaging in a way that feels true to herself. Through her lyrics and actions, Krystall shows us that she'll never be disingenuous with herself or her fans. "Whenever I do post, I make sure it's at a time when I can reply to people," she says. She's intentional about this space because she wants people to feel comfortable engaging with her. Krystall credits her phone as one of the primary devices she clings to get her work done. "Not only am I connecting with fans on social media, but I'm using my phone to work," she explains. Even when she's on the run, Krystall is jotting down melodies, keeping track of lines, and writing down all of her song ideas.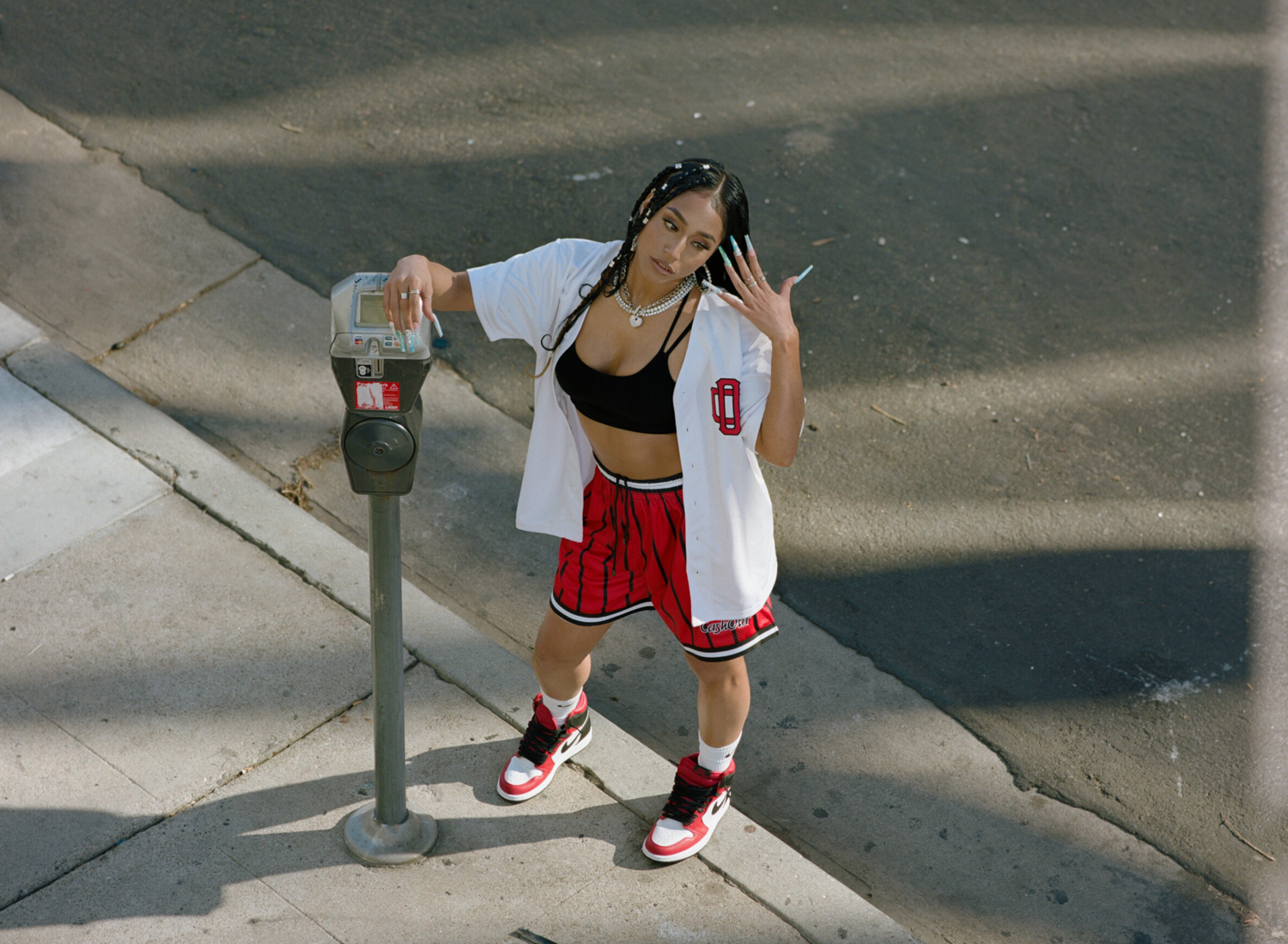 As the dedicated rapper gets more and more recognition, Krystall says her priority will always be making good music. "I just wanna give people that inspiration to be their best version because music did that for me, so I love doing that for other people," the rapper states. Krystall hopes that her music can uplift women and remind them of their power. In the music videos for her single "Smellin Like Dior," Krystall recognizes how powerful it can be to see women in roles historically reserved for men. In the video, the women are in charge, not letting the men call the shots.
"I want to uplift women and make sure they realize that they are strong. And that they're capable of being that bitch," Krystall says.
So far, all of her songs are directly tied to the things she's lived through. Growing up, Krystall lived with some of her extended family members in central El Paso. "I counted 12 of us living in that house at one time," she explains. While living with her aunt, grandmother, and cousins, Krystall recalls seeing that the men in those relationships didn't appreciate the women around them. This prompted a determination on Krystall's behalf to ensure she didn't end up in the same scenario. "I think that is what helped me not let men take advantage of me," says the rapper.
Krystall's music is pro-women. She says she's all about girl power and won't ever be the kind of musician who turns her nose up when she walks into a room. Part of this reasoning is because she, herself, was teased in school. However, instead of reciprocating this behavior, Krystall consciously becomes kind and welcoming to everyone she meets. "I always treat people with respect because I didn't always have that respect," she notes. The healing rapper wants to make those around her feel important. It's why she got into music in the first place.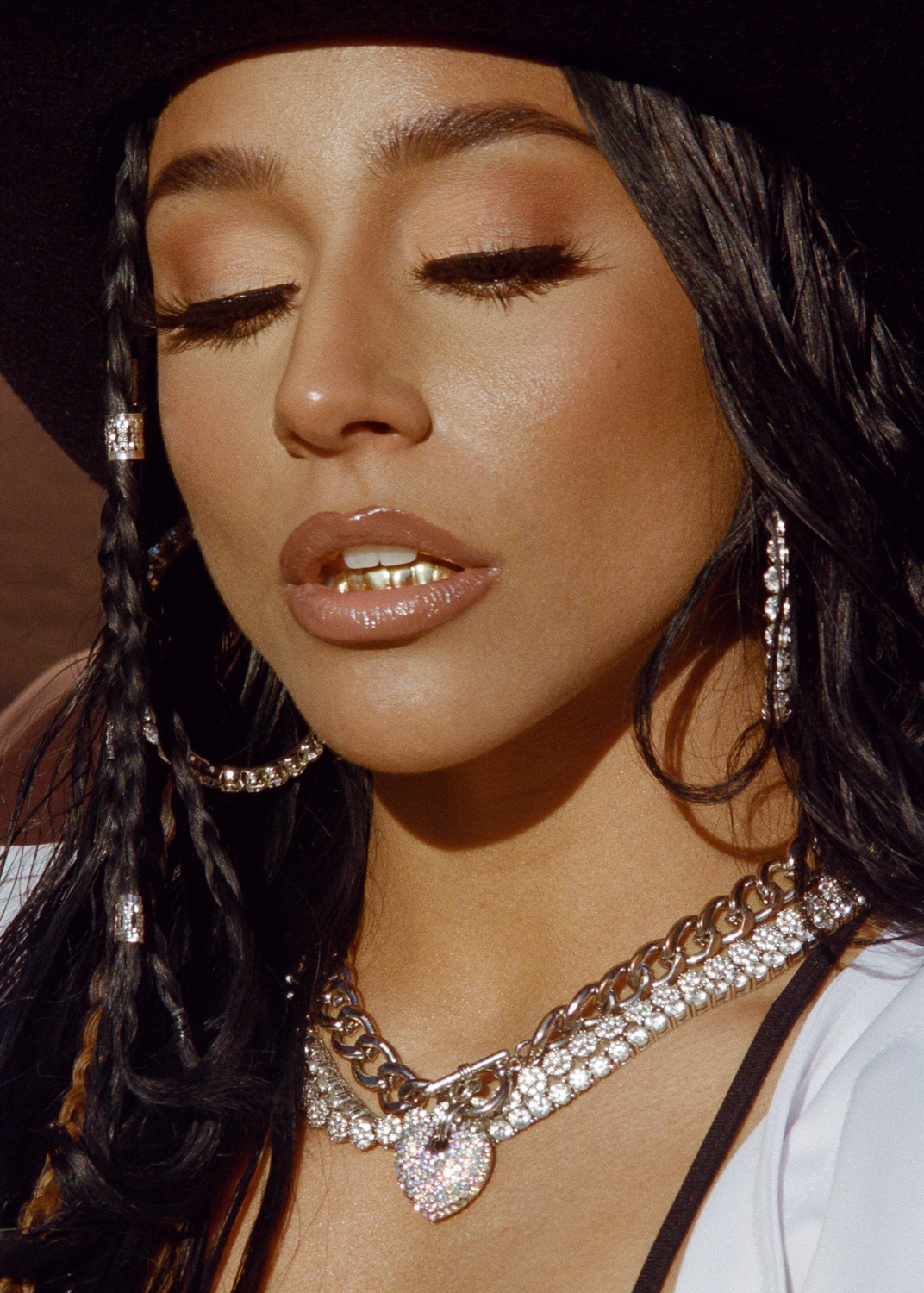 "I feel like since I overcame so much, I feel like I am strong. I am brave. I want other women to feel that as well when they listen to my music," she says. Krystall calls herself a survivor and a fighter. Simply listen to her music, and you'll see where she's coming from. On "The Desert Daisy," there's a vulnerability in her lyrics that feels relatable, but the song succeeds as an anthem of strength rather than weakness. This determination might be why the fans keep coming back—they see themselves in her and want to support her.
"I want to uplift women and make sure they realize that they are strong. And that they're capable of being that bitch."
In 2018, Krystall lived in an RV for two years, along with her supportive friend and manager, DS Junior. Then, earlier this year, Krystall got an invitation to travel to Los Angeles to make music. And now, when Krystall looks back at everything she's done to get here, she's quick to observe how her craft is evolving as well. "I'm getting more mature in the content I want to write about. I'm noticing my voice getting stronger," she admits. The rapper knows she's good. But she's excited to see how much better and stronger she can become in the next five years.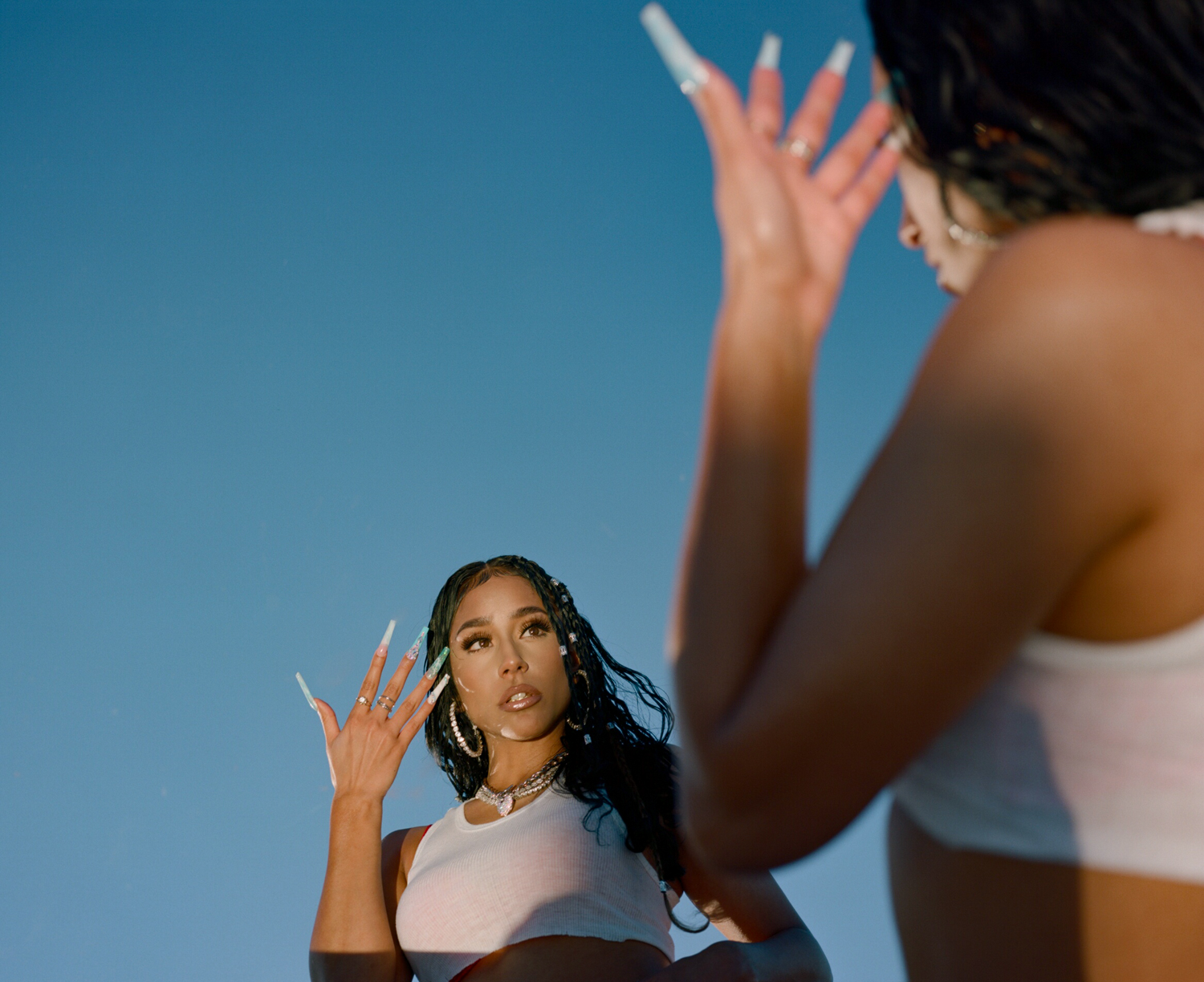 Thankfully, Krystall's music is proving to be fruitful in more ways than one. She's grateful for her career because it's proof that the work she's been doing is actually leading to something: "The thing that keeps me going would be the fact that I really want to bring that trophy home." Krystall says she's running toward her goals every day because she wants to show people that this passion for music has turned into something like an empire. One that Krystall hopes can run seamlessly like a well-oiled machine. That includes having her hand in all aspects of the entertainment industry.
Krystall Poppin starring as a leading lady in a Hollywood Blockbuster? Or a reality show based on her music and journey to stardom? Krystall says she's open to all of it. If things go according to plan, she hopes to have a couple of hit records under her belt and some acting credits to her name in the next five years. But before Krystall walks down the Grammy's red carpet, she hopes to collaborate with as many female rappers from Texas as possible. Including Megan Thee Stallion, of course.
No matter how the next couple of years shape out for Krystall, the rapper says she has a long list of people she cannot let down. This list includes her manager, her family, and the rest of her team, who sacrificed an enormous amount to help support Krystall and her career. Of course, Krystall's fans are also taken into account because she knows just how frustrating it can feel when you build a bond with an artist and they just stop putting out music.
But not to worry—Krystall doesn't plan on disappearing any time soon. "The [fans] are also investing their time into me. They're investing a belief into me," she says. As the Texas-made rapper continues to put in the work, it's clear that Krystall's genuine passion for music will take her to the top, which is where she's headed anyway.