With the end-of-year flurry, it's often easy to forget about the pivotal albums that were under the radar over the course of a music-filled year. The following are just a glimpse at some of the offerings that constantly played in our offices, homes and filled our playlists with endless hours of bliss. These are our favorite underrated albums of the year.
---
Editor's Note: While this list features mostly artists of U.S. Latino and Latin American background, we have also included Spanish artists. As these groups are musically in constant conversation with each other, we have decided to include Spanish artists in our list of most underrated albums of the year. 
10
Al Espacio by Diego Trip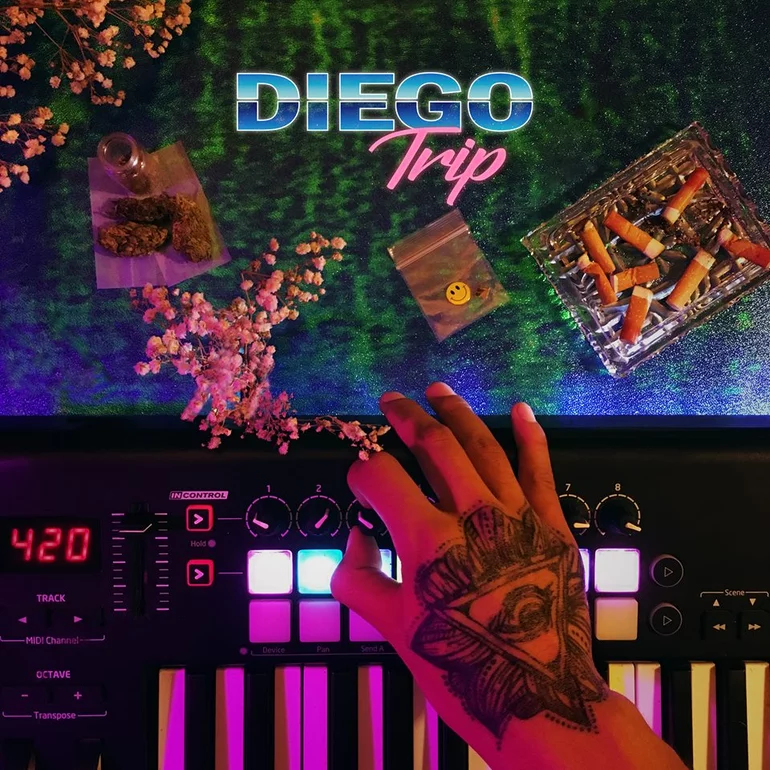 2019 established R&B as one of the most exciting sounds coming from the next generation of Latinx musicians. While places like Los Angeles, Chicago and Mexico City quickly became hotbeds for the sounds, people from all over Latin America had some important contributions to the genre, as is the case with Diego Trip. Al Espacio represented a bluesy yet fresh take on the decades-old sound, brimming with emotion and keeping a chill facade. Jazzy saxophones and trebly blues licks made up a peculiar setting for the 22-year-old Peruvian singer to deliver his peans to love lost and cherished. If there's something that stood out on this collection of songs, it's the young musician's songwriting and production skills that straddled the line between '90s classics of the style and things we have come to expect from this type of music in its lo-fi setting, working together harmoniously. -Marcos Hassan
9
Entre Los Dos by Y La Bamba
Luz Elena Mendoza's voice is as hauntingly tremulous on Entre Los Dos as it is on companion 2019 LP Mujeres, which came out in February. Y La Bamba has always traded in a defiant, jangly alt-folk sound that had more in common with primal invocations; on Entre Los Dos, the first time Mendoza has served as producer, the group follows this sentiment with an acute pointedness. The EP is a direct confrontation of the "ni de aqui, ni de alla" existence Mendoza embodies while dissecting the distance and closeness of a romance. She conjures the divine in tracks like the "Rios Sueltos," struggles with communication (strained voice a direct reflection of the lyrics) on "Las Platicas" and veers freely between quiet folk strums ("Octavio", the only English-language offering on the record) and the sound of birds cawing in the wind on the heartbreaking title track. The EP builds to a surf-rock tinged crescendo on "Gritos," and that's what this EP feels like: an ancestral shout, a sonic ceremonial that will hold long after 2019 for those lost souls lucky enough to stumble upon it and dive in. -E.R. Pulgar
8
De Brujas, Peteneras y Chachalacas by La Bruja de Texcoco 
In 2019, Mexico City's trans community made a major splash across the perennially thriving local underground with riveting releases by Luisa Almaguer and Manitas Nerviosas, as well as the mighty rise of DJ Guapis as a highly sought perreo goddess. Operating within and around this vital wave, La Bruja de Texcoco dazzled (and defied) indie snobs, folkloric traditionalists and international audiences with her sublime debut EP, De Brujas, Peteneras y Chachalacas – a collection of suites, sones jarochos and huapangos that create an unrestrained collage of Mexican musical heritage.
A prolific multi-instrumentalist, La Bruja plays most of the instruments heard throughout the album, including harp, violin, guitar, accordion and prehispanic wind devices, in addition to her own alluring coos. Atmospheric flourishes of crickets, crackling wood fire and the rolling sea tide further enhance the record's immersive storytelling, transporting the listener from rustling forests to a colorful Xochimilco trajinera with the flick of a string. -Richard Villegas
7
Forfun by Juana Molina
The prolific Juana Molina makes music that is strange yet stunning, often melding loops and ambient sketches into hauntingly beautiful soundscapes. But as atmospheric as her work can be, she is, at the end of the day, a master of experimentation with no commitment to a particular style. Therefore, it should surprise no one that she launched an EP this year prompted entirely by the experience of spontaneously tinkering around onstage after an airline lost several of her band's instruments before a festival. She had no choice but to deconstruct her songs on a guitar on the fly, a process that led her toward the punk, somewhat dadaist approach that marks the aptly titled new release, Forfun. -Julyssa Lopez
6
Falha Comum by Rakta
Like most music in the internet age, post-punk came back and made itself known through many new outfits trying out the fit for their own. Many musicians have worked this sound in favor of nostalgia, which is why Rakta have stood out ever since they made their presence known from their Sao Paulo home. In place of replicating a genre note for note, the band has mined the varied approach to retro-futuristic minimal rock of the late '70s to find a means of expression all their own. Not comfortable with that, Falha Comum did away with conventional song structures, doubling down on the mysterious shroud that has been a part of their music from the start and working it to make their music a lot more exciting than it had already been. By walking firmly in an experimental path, Rakta's music became more psychedelic and atmospheric and broke into weirder territory – a home for elite sonic alchemists. -Marcos Hassan
5
Sonocardiogram by Daymé Arocena
There is little that better describes Daymé Arocena's latest work than its own title: If we understand a cardiogram as a test of the heart, then 2019's Sonocardiogram delivers the very sound of this test. The album is a sacred kind of love offering, whether in the pure intoxication of Arocena's voice and the otherworldly promise of her orishas trilogía or in her band's sprawling, electronic jazz stylings. Take "Oshún," whose crashing opening number sounds like opening the gate into some godly plane or the hypnotic batá drum on "Para El Amor: Cantar!" — arrangements that spin your worries and doubts into faith; whether that's in the great beyond, or in yourself. In all of its divine offerings, Arocena's Sonocardiogram exists as a rich window into the soul and work of a Santera songstress — one who has emerged, at 27, as Cuba's latest defining voice. -Jenzia Burgos
4
TANDEM by MITÚ 
With their unexpectedly pensive fifth album, TANDEM, exploratory Colombian dance music duo MITÚ turned down the BPMs of their usually high-octane productions, giving fans plenty of room to breathe and bask in their increasingly layered craftsmanship. "VERDES OJOS CHINOS" and "ROMA" delve into organic acoustics, showcasing minimalist guitar and marimbas, while on "PERLA" and "TANDEM" the pair dwells in atmospheres, inviting the listener to vibe and sway the night away. However, MITÚ's sound is not the only one that has been transformed on TANDEM. An Ela Minus double-feature on "NO TE VAYAS SIN DECIRME DONDE" and "SALTA" inverts the singer-producer's traditionally tiny-sounding vocals, centering her as a commanding, otherworldly protagonist within an already dynamic canvas. -Richard Villegas
3
Crisàlida by NOIA
In 2019, New York City-based artist NOIA quietly released Crisàlida, the follow-up to her beautiful debut HABITS EP. Born Gisela Fulla-Silvestre, the Barcelona native created this four-track collection while going through a period marked by feelings of oppression from living in NYC and the uncertainty of not knowing which direction to follow artistically. So just as its title suggests, Crisàlida was built to represent a transitional stage in her career.
NOIA undressed her compositions down to the few elements she required to caress our ears and convey her emotional messages. Using her background in film scoring and sound design, she created magnificent textural experiences in the shape of songs that feed on pop and R&B but aren't necessarily confined to any specific style. She jumps from Spanish to English to Catalan, exploring her upper register with lyrics that battle with feeling lost without someone else or longing for a different past that changes her current life. She gives us her peak heart-wrenching moment on "La Nit Ve Sola," her interpretation of a poem by Maria Mercè Marçal in the key of ambient music. Crisàlida is a misleading title, as the EP shows us an artist with a strong, fully-formed vision. -Cheky
2
Por Los Dos by Pororó
On their debut album, Dominican sextet Pororó cut through the noise by returning to simplicity. In only seven songs, the band – led by singer-songwriter and guitarist Arnold Martínez – gathered their soft-pop inspirations into a single body of work. Por Los Dos is one for the romantics. Using minimal instrumentation and a precise ear for beautiful detail, they make us believe the kind of true love today's cynical world often makes us forget about, and invite us to live it without fear of getting our hearts broken.
The album takes its time in the beginning to explain where both its title and the band's name come from: It's intrinsically tied to Martínez's origins, as Pororó is how people from the Dominican municipality of Villa Mella are referred to and the language the natives speak. But there is no particular interest in letting folklore set the tone of the album; instead, they let it inform their tropical pop compositions. Afro-Dominican rhythms like congo and pambiche are referenced, and Afro-diasporic percussion instruments like cajón are used, but only to give these songs their beating heart and connect them to the band's roots. Por Los Dos is a feeling we have forgotten about and are experiencing again with open arms. -Cheky
1
Motions by Melii
Melii, one of Harlem's boldest and most brilliant up-and-coming rappers, released her first album, Phases, in March. It was a surprisingly glossy debut that proved her skills beyond rhyming – a reminder that she could write and flex her voice over whatever beat was thrown at her. Most artists would have stopped there, but Melii's different. In October, she dropped a second project called Motions, made up of seven songs that sound like she's stretching out and leaning further into who she is. She has fun here as she riffs on dembow and dancehall ("High For U" with Gyptian is a standout), and the whole time, her versatility suggests we haven't even begun to see the depths of her range. -Julyssa Lopez