As the saying goes: When life gives you lemons, you make lemonade — and Andrekza is squeezing out multi-industry domination. In the fall of 2020, the Venezuelan artist was signed by EDM deity Steve Aoki to his Latin-focused label Dim Mak En Fuego, in which she launched her first-ever single. Recently, she has collaborated with established artists such as Gabriel Garzón-Montano and Carlos Sadness while making inroads in other fields like videos and fashion. She has accomplished all of this during the uncertain times of the global pandemic.
For the budding singer, art is of vital importance. As the world reopens and various industries see a new light, she's only going to expand more when it comes to her creativity. For Andrekza, artistic success means the ability to spend life being creative in as many disciplines as she's interested in, making introspective art, and opening doors for others to join in her vision.
Andrekza Andreina was born in San Antonio de los Altos, Venezuela, in "a three-street town," as she describes it. Her mother encouraged her to pursue her artistic vision, first by writing poems; then, she connected with music through a cassette recorder. "That's when I realized I could record my songs and my poems," Andrekza recalls. "When that happened, my life changed because I could have everything in one place, words and music.
"Eventually, her interests expanded to include visual arts like photography and film. She would study in Toronto and later move to Los Angeles, where she worked at Lotus Visual Arts, an education and arts foundation where she helped artists develop their brands and images. It wouldn't be long before she decided to pursue music as her main artistic avenue. However, even with this life-changing decision, she knew she didn't want to be boxed in to just being a singer. "I grew up in an artistic environment," she says. "To me, art is a means to expression, and that's why I have so many ways of expressing myself. I've always wanted to tell stories, make every moment a special one."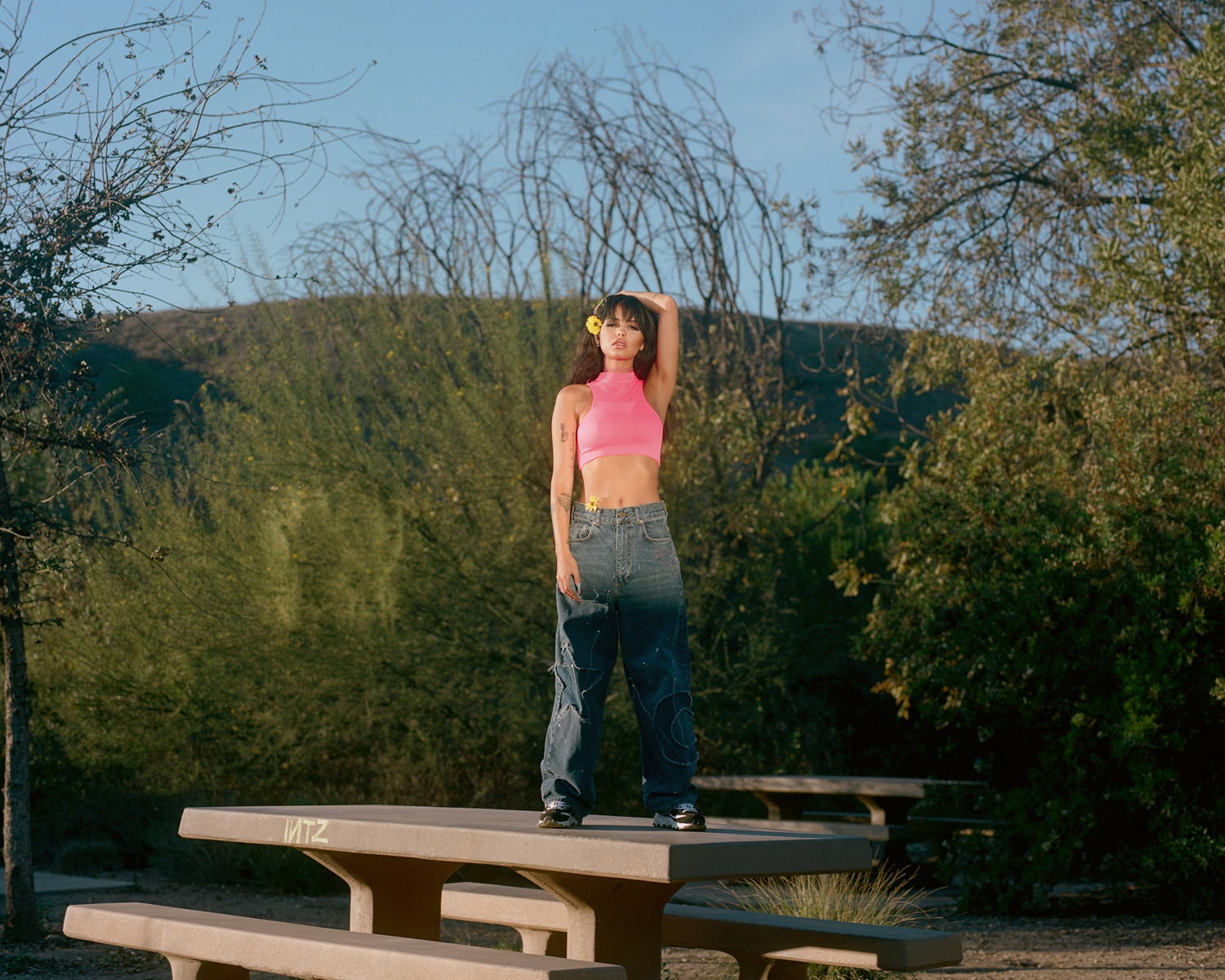 Her artistry as a musician wouldn't just be influenced by this boundless expression but also every city she's called home. Although her roots are in Venezuela, every location she has lived in plays a big part in her development as an artist. "I'm Venezuelan, but I have been away from there since I was 15," Andrekza tells Remezcla. "I have lived in different countries where I have been exposed to many different cultures and different methods of artistic expression."
These influences made her a standout in the music industry, and she quickly garnered some noise within its walls. After signing a publishing contract with Warner-Chapell in 2019, she caught the attention of Steve Aoki and became the first female artist on his Latin label Dim Mak En Fuego. Before long, her debut single, "TÉ," dropped and made quite the impression.
We're all different and have a unique light that makes us special.
Considering it came out on the label of one of the biggest names in electronic dance music, "TÉ" is not exactly what you'd expect. A subdued, downtempo, and sweet track that features hints of R&B and bedroom pop, "TÉ" is Andrekza's attempt to reach someone. A lifelong fan of tea, Andrekza wrote the song just as the pandemic was hitting its first peak and the world was in lockdown. This track was her attempt to reconnect with people. "That song changed my life," Andrekza tells us. "When I wrote it, I thought, 'There's something here.' It was like coming straight out of my heart. I was alone at home, trying to express so much and trying to connect with someone out there. I feel so grateful about that song."
Soon after, Andrekza dropped her first EP, Cassette – Lado A, an homage to her childhood bridge into the world of music and features artists like Gabriel Garzón-Montano on "Tuve." Progressing from "TÉ," the record shows a great variety of rhythms, from dembow to R&B, from dance to introspection. "When you're little, you're not thinking about genres or anything," she says about the concept behind the album. "You're just letting the music move you from the inside."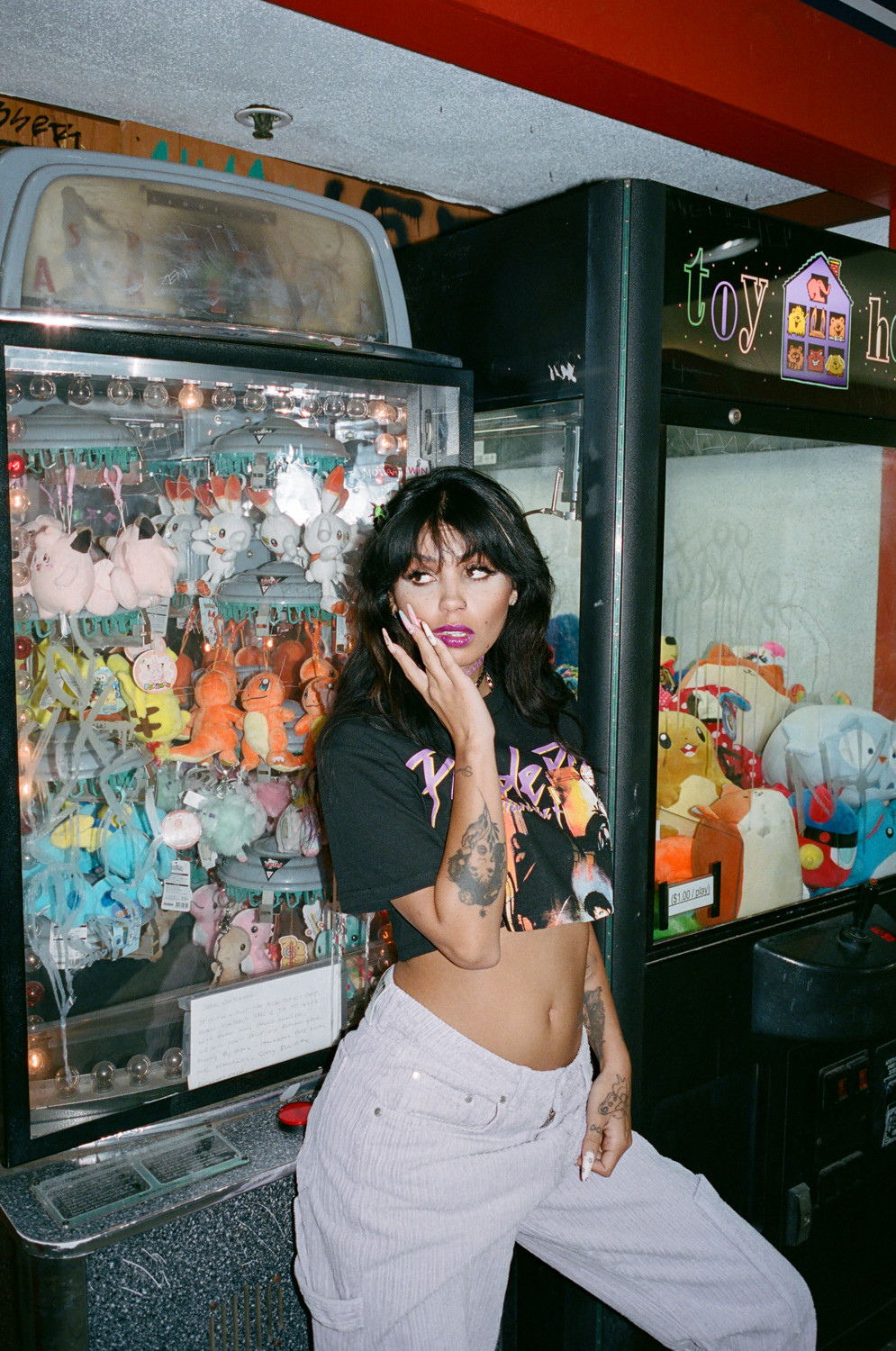 For every side A, there's a side B. And so, Cassette – Lado B, which was released in October, shows an expansion to her sound and vision. Unlike the sunnier and more optimistic Lado A, this one deals with more complex conversations. Within the lyrics, Andrekza asks herself social justice questions around racism, sexism, classism, gender inequality, and psychological abuse. The music remains as varied as before, with an added experimental edge in each track.
"It's an evolution," she says. "It's the same essence, but the themes are stretching a bit deeper. My lyrics are an invitation to social consciousness, even if the songs are for dancing and having a good time. There's always a message behind every one of my songs."
Inspired by rockeras Natalia Lafourcade and Julieta Venegas, as well as authors Güstave Courbet, Harumi Murakami, and Toni Morrison, Lado B is not your typical party album, as exemplified by the song "Sangre Poderosa." Produced by Epikh Pro and Roark, the standout track's lyrics and video deal with the 1911 Triangle Shirtwaist Factory fire in New York, killing 146 people. Many of them were teenage Latinas who only spoke Spanish; the incident is cited as fundamental to the creation of International Women's Day. "I thought it was very necessary totalk about this [event]," says Andrekza about this song. "I get this feeling in the pit of my stomach. I have to go through with this feeling that I feel is very real. I could make it easier on myself and talk about lighter subject matter, but I have to express myself."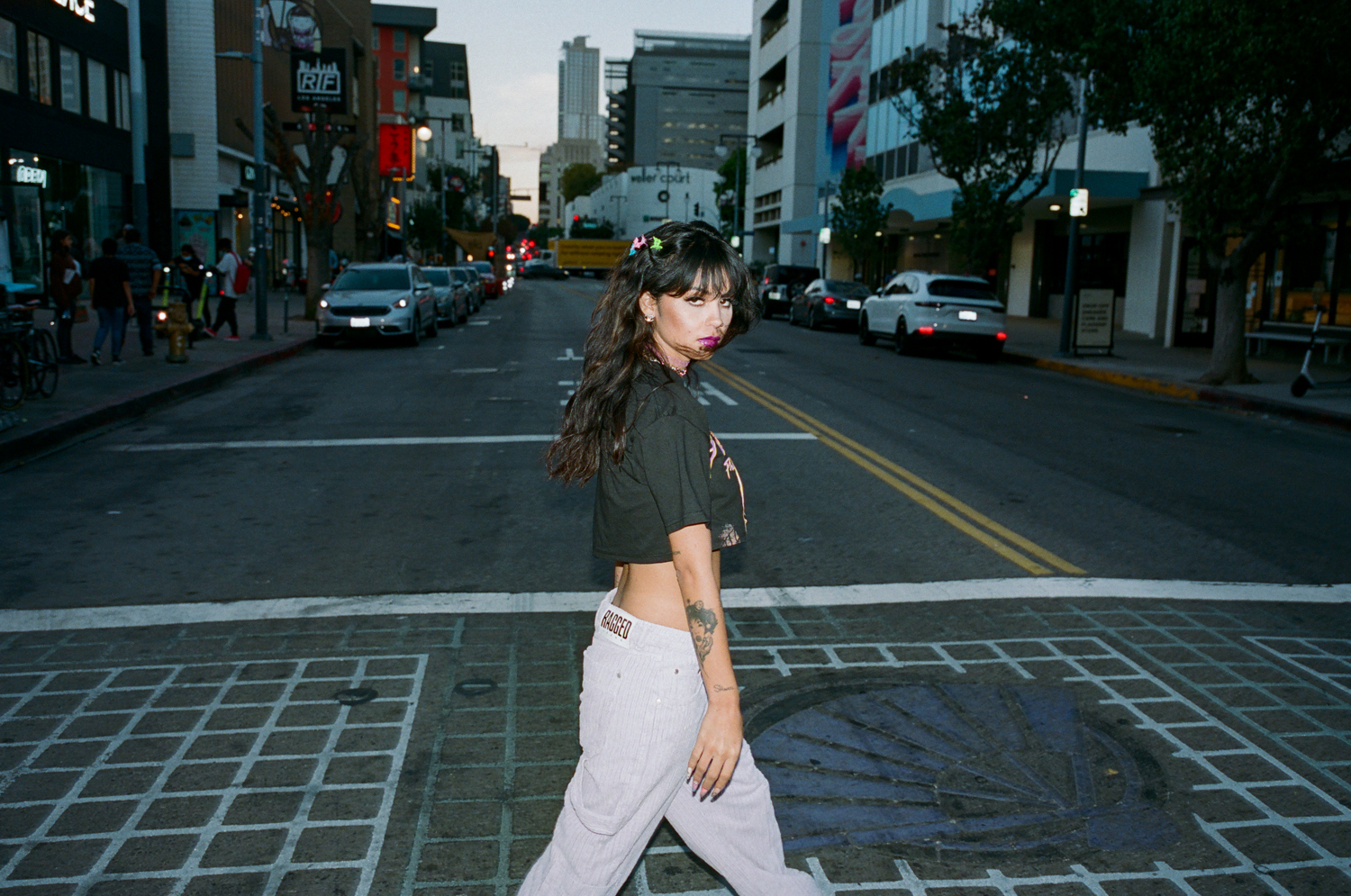 While hitting on social justice issues and events are always at risk of getting backlash, Andrekza plans to remain rooted in her desire to express herself. She's very protective of the boundaries of her artistic expression as she navigates a world ruled by clout and numbers. "I've heard industry leaders tell me to think about what playlist I want to be in and where do I want to be and then write the songs accordingly," she says. "It boggles my mind that creative people and artists can think like that."
In her short career, Andrekza has been very vocal about her artistic personality not being limited to only music. As her career so far has attested, she's fond of words as well as images for her expression. To her, this is all one and the same. "I think now you can be so much," she says. "We have an intuition of what we like, what we can do, and push our limits. I have a degree in photography and audiovisual art. I have created a visual world around me that has enriched me so much. It has opened so many opportunities for me."
This is who I am, this is what I do, and you can come along for the ride.
Although her endeavors feature so many different disciplines, Andrekza is aware that she has to take steps to introduce herself to the public. "This is phase one," she says. "I'm humbly introducing my universe to the public. As time passes, the people who will connect with my art will begin to understand my mission. That's what I want to do with my art: connect with people in a meaningful way."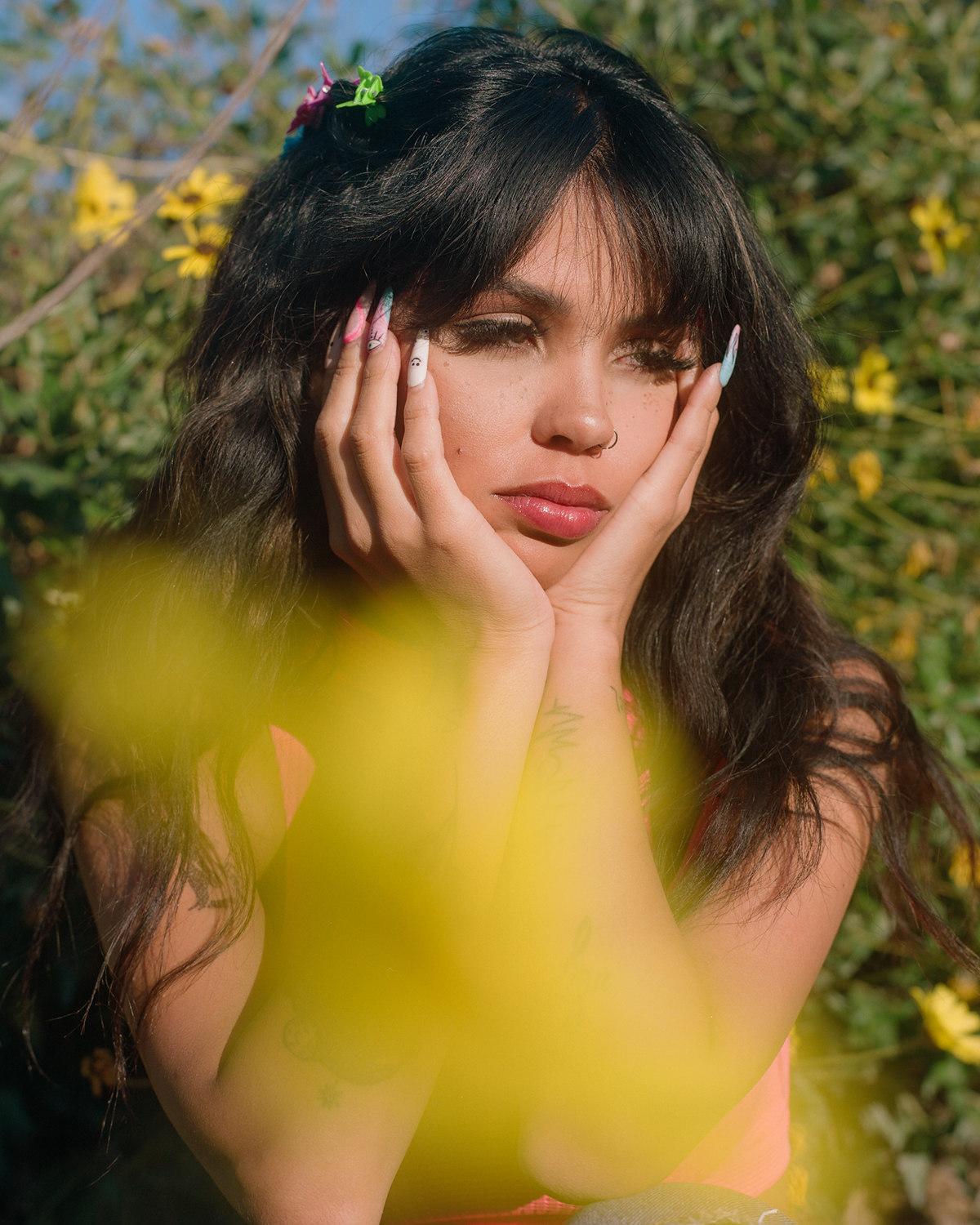 She also understands the special place our communities have in the arts nowadays. "For a long time, Latin artists tried to fit in and express ourselves in a way that was more universal to the point of shunning our roots," she adds. "We're at a moment where we're strengthening our roots and our cultures. People recognize what we're doing and where we're coming from, and we owe it to all the artists who have raised their voices as authentic people. They say, 'This is who I am, this is what I do, and you can come along for the ride.'"
No matter how much time she's had in this industry, Andrekza has a firm grasp on her abilities and a well-developed vision that she'll continue to explore through many different avenues. Although Cassette – Lado B has been out for a short time, she's already working on her next video — as well as her streetwear brand. She's also working on a new album, directing videos for other artists. Ultimately, her path to defend artistry above else and create meaningful relationships with other artists is key.
"We artists are very vulnerable in our process, so every comment we get affects us," she says. "I think the new generation should fight to have opportunities and platforms for every one of us. We're all different and have a unique light that makes us special. One of my biggest ambitions is to keep creating and opening doors for more people to express themselves in a real way."