Marijuana, weed, pot, dope, cannabis, ganja, mota, Mary Jane or whatever else you want to call it is a drug so recognized and popular that it has its own day. Known as 420, this day has been associated with weed for over five decades.
The love of bud is a mindset and practice. An overwhelming number of Americans support the legalization of marijuana use for both medical and recreational use. According to the Pew Research Center, 91% of adults in the United States say that marijuana should be legal for both purposes. The same study, conducted earlier this month, reported that only 8% of adults thought it should be illegal. Today, 36 states have legalized marijuana for medical purposes and/or recreational use. Still, it remains an illegal drug on a federal level.
Marijuana is all about the green, too—and we don't just mean from the plant. We're talking dollars. Last year alone, Forbes reports that the cannabis industry brought in a record $17.5 billion. In New York it was reported that the state's recent passing of legal marijuana could generate $3.5 billion and create 60 thousand jobs. That makes states with non-marijuana revenue green with envy.
Alright, enough with the numbers. Let's face it, marijuana has also burned up a lot of screen time in pop culture. Countless movies and characters have embedded themselves in the zeitgeist thanks to weed. Think "Spicoli" from Fast Times at Ridgemont High.  And where would McConaughey be without "alright, alright, alright." in Dazed and Confused? It has also lit up the speakers of so many songs from artists who were under its influence to singers who sang about it. Hello, "Last Dance with Mary Jane."
Now, partaking in the herb is another thing. Ideally, a user will have a bong, pipe, or even a vape pen. These are the most common ways to smoke weed. Vapes are a good option if you like your marijuana in wax form. Bongs and pipes are tried and true tools of the trade, as are rolling papers. But what happens when you don't have any of these? While marijuana delivery is available in some cities like Las Vegas, most people can't exactly Postmate a bong. Here are some things we've learned about what to use around the house to get your smoke on—legally,of course.
Corn Husks Aren't Just for Tamales
Corn husks, mostly used for tamales, are readily available in most Latine kitchens. In addition to being an all natural alternative for smoking weed, corn husks are considered to be one of the healthiest ways to inhale marijuana. Their fibrous material makes weed rolling tight and smoking slow. 
An Apple A Day
As the saying goes, "An apple a day will keep the doctor away." It turns out it'll help you out in a pinch, too. This is one of the most popular options as the apple is one of the most common fruits in the world and can be found in most kitchens.  An apple can be used as a makeshift pipe with some foil and some strategic cutting from a knife.
Toilet Paper Rolls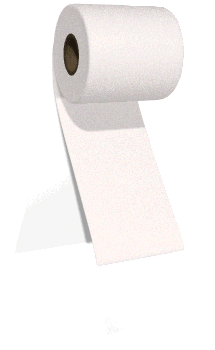 Known as a "steamroller," this method has been a popular one for a long time, mostly as this is the one item everyone has in their home. Although it's a little more labor intensive, this method is effective. You'll need a knife, some foil, some tape, a toothpick, and a pen or pencil to make this work. 
Aluminum Cans
It could be argued that using a soda or beer can as a makeshift smoking device was the original form of recycling. A simple folding of the can, some strategic hole poking, and proper weed placement make this a real DIY for the weed smoker. While this isn't as natural as other alternatives, this is one of the most common.
Tin Foil
Don't have soda or beer in the house? Not to worry, you can still use good ol' fashioned foil. Aluminum foil has been a long time favorite for its ease of use and disposability. Simply roll into the shape of a cigarette, add your weed, and light.  Easy peasy.