Cardi B delivered an electric rendition of "I Like It" during Tuesday's American Music Awards, her first televised performance after giving birth to her daughter Kulture in July (Even Whoopi Goldberg's cat started dancing when Cardi took the stage). The vibrant performance alongside J Balvin and Bad Bunny is already being hailed as a standout of the show. Cardi's choreography and styling are garnering special praises, but with everything happening on stage, there were plenty of memorable moments you may have missed, like the Buena Vista Social Club reference and all of the audience's reactions.
Scroll down for the moments you may have missed.
Cardi's DJ wore a jacket with a Bardi twist on Buena Vista Social Club Cardi's live band kicked off the performance with a triumphant horn intro. Before she took the stage, the Bronx rapper's DJ turned around to reveal a monogrammed jacket referencing the famed Cuban ensemble Buena Vista Social Club. But in classic Cardi fashion, there was a Bardi twist on the coats – they were emblazoned with the words "Bardi Gang Social Club."
Offset and Quavo were really feeling the performance About halfway into the performance, the camera panned to Quavo and Cardi's husband Offset, who were visibly getting their lives. Go off.
Bad Bunny rolled onstage in a shopping cart.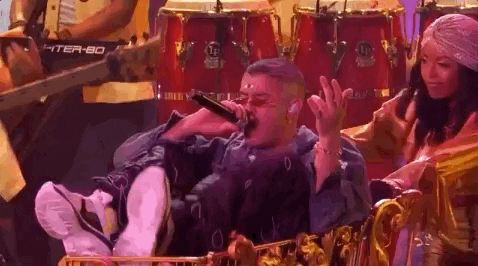 If you thought Bad Bunny would do anything other than bring his wacky sense of style to the AMAs stage, you were wrong. The Boricua rapper came to the ceremony with an eye painted on his forehead, and he rode onstage in a gilded shopping cart. Classic.
Cardi B rode across the stage on a bicycle. If you blinked, you may have missed Cardi casually riding across stage on a bicycle during El Conejo Malo's verse.
Taran Killam's jaw literally dropped for the camera.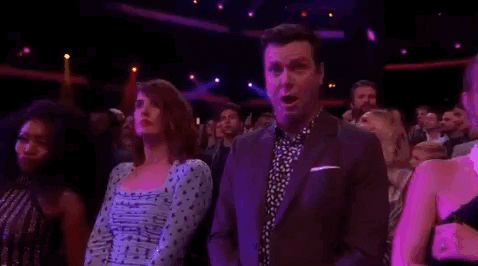 Towards the end of the song, Taran Killam let his jaw literally drop for the camera – pretty much summing up how everyone else felt about the whole performance.
Watch the full performance below: